Tuesday, May 6. 2014
Two more weeks to go. The weather has not been cooperating at all these past few weeks and I've been doing the majority of my easy & interval runs on the treadmill. I'm glad I got it, but I didn't really anticipate having to do this many workouts indoors. I don't know if it's a mental thing or what, but even my easy runs feel super hard on the treadmill and I downright want to die when I'm doing intervals.
4 x 1600 of misery
Speaking of which, oh how I hate you mile intervals. I felt like I was dying the entire way. It didn't help that I screwed up the calibration factor on my watch so it my pace I was around 30 seconds slower and my total distance ended up .25 miles shorter than what the treadmill said. In all, I really have no idea how fast I did these, all I know is that they hurt and I was so glad to be done.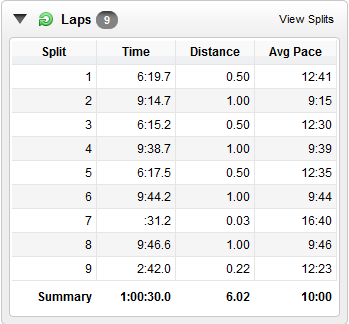 55 minute tempo
As much as I'm starting to loathe the longer tempo runs, this one actually wasn't too bad. Josh, Zoe and I headed into town to do these on the waterfront trail which is finally clear of snow. Aside from one bathroom stop for the dog & I at the 50 minute mark (Thanks Super 8 for having a restroom very close to the front door), we ran these straight through.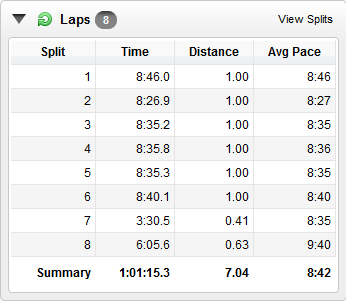 Then we went to the bar and drank lots of beer because it was Friday.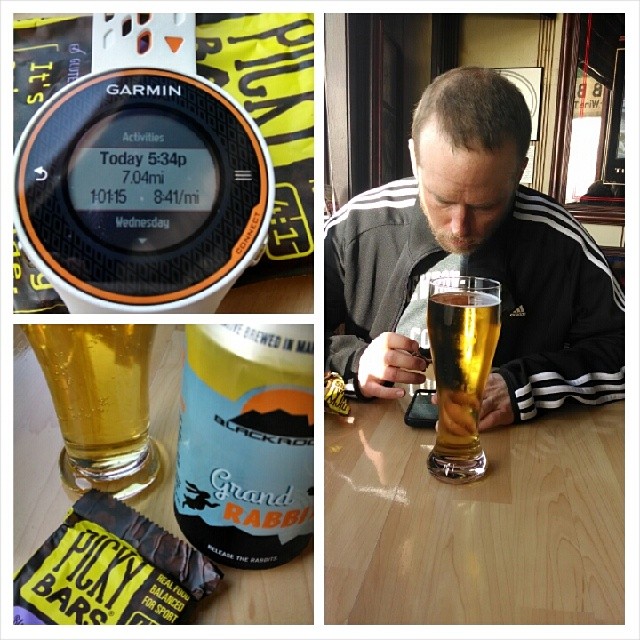 2:00 long run
Although my paces don't really show it, this one pretty much sucked after 10 miles. My legs weren't too happy that I blew off stretching after the tempo on Friday and then spent all day in the car on Saturday. They were doing okay up until mile 10 and then my hamstrings started to get super tight and no amount of stretching make them feel any better, either. As soon as my watch hit 2 hours, I was done and I didn't care that I was about a mile and a half from home. Josh kept going (finished up with 14 miles, which is his longest run ever - nice!) and came back and rescued Zoe and I with the truck as we slowly walked home. I was (still am) pretty disgusted with myself for doing such dumb things before an important long run, but what's done is done. Lessons learned.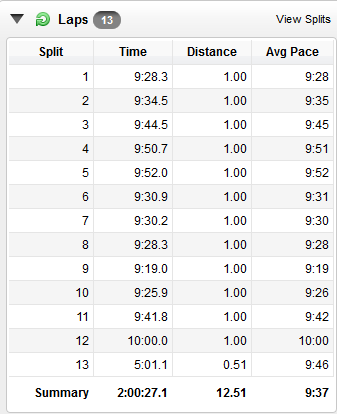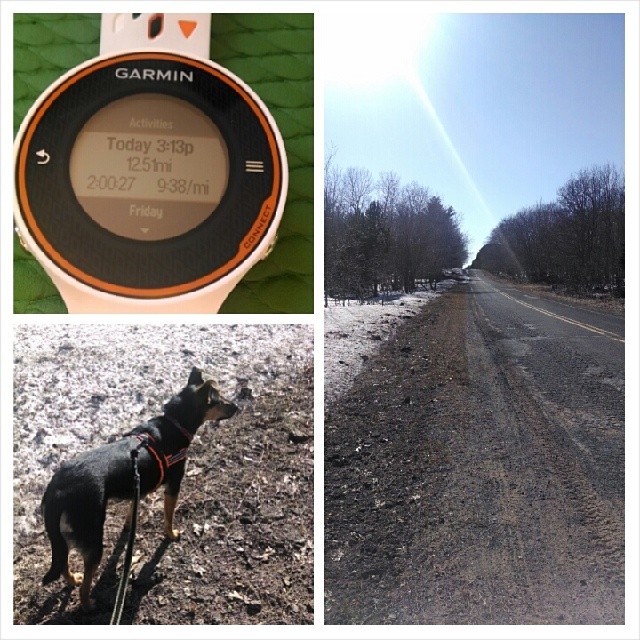 Health
Eh, I'm walking a thin line with this one. I had some minor pain in my outer left leg the previous week and took a couple of days off to rest it. I started up this week thinking that I might need to cut back mileage or run slower, but as long as I kept icing, stretching and rolling, it felt better. Then, of course, I made the stupid mistake of slacking off as soon as it started to feel better and now I'm back in the same place that I started. You'd think after doing this for as many years as I have, I'd get smarter. But, nope! Dummy.
Also, my legs are just sore. All the time. Quads, hamstrings, calves, everything. I can't remember a time where this has happened to me before so I don't know if it's just all the extra miles and speed/tempo workouts or what, but it's pretty disconcerting.

I ended last week with 32 miles @ 9:50. This is the last big week of training - 6x800 intervals, 60 minute tempo (!), 3 miles @ HM pace and a 2:00 long run. I'm really starting to feel burned out, so it'll be nice to get over this hump and slide into taper mode.