Saturday, April 26. 2014
My life has revolved around my training calendar lately - what's on the schedule for today, tomorrow, and good grief look at next week! Before I knew it, poof, a month had gone by since I last blogged. I'm not going to recap four week's worth of training (too lazy, and boring) so here are some highlights.
Intervals
I had my first mile interval session, which I ended up having to do on the treadmill because of the stupid weather we've been having. Wow, these were pretty brutal. I don't know if it was the treadmill or I was having a bad day or what, but when that treadmill started getting closer to the mile mark, I felt like I was just barely hanging on to the pace.

These are definitely my least favorite of the intervals.
Tempos
I'm starting to really, REALLY dislike these workouts and it probably has something to do with feeling like I still have no clue what I'm doing. My last tempo was 50 minutes and I have 55 and 60 left before the race. Yuck.
LSDs
Since the long runs are going by minutes rather than miles, it's kind of interesting to try to plan routes by what you think you'll be doing.
My last long run was 1:45, which I ended up running just under 11.5 miles @ 9:30 pace, which was pleasantly surprising because the first half of the route has some monster climbs.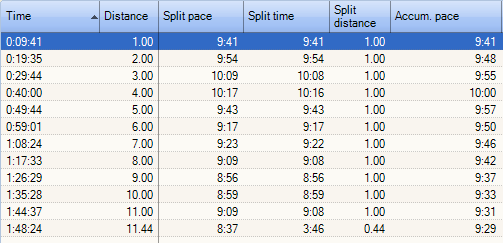 This was a 3:1 long run where you run the first 75% at an comfortable pace, then accelerate to at or near race pace for the last 25%. I think we did okay. The last half of the route is flat/downhill which definitely helped, but there is a climb in the last mile and, aside from one doggie pee stop, we kept up a pretty brisk pace for that section.
Health
I've developed some pain on the outside of my left leg recently, so I decided to take a couple of days off this week to work through that. I'm not sure what's going on, my personal trainer thinks it's gym-related but I'm not so sure about that. In any event, I do not want this to develop into something more so I've been doing the whole rest, ice, stretch, massage therapy thing a couple of times each day to hopefully work this out. It's definitely feeling better than it did a couple of days ago, so there's that.
That pretty much sums up the last month of training. In March, I ended up with 120 miles and I'll probably finish up April with around 95 miles. There's a little over two weeks until race day, I can't believe this training session has gone by so fast!

Finally
OMG did anybody watch the Boston Marathon? I almost had a heart attack watching Meb in those last few miles, it was definitely the most exciting sporting event I've seen in a long time. Meb is awesome, I'm so glad he won. He's such a great ambassador for the sport and seems like a genuinely nice guy.